This page describes the relationships for Tweet.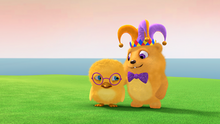 Tweet sees Hatty as a kind loving person. She really loves going on adventures with him and also loves and cares about him.
Tweet enjoys seeing Hatty whenever he comes and in several episodes is the first one to greet him.
Also in several episodes, Tweet asks Hatty what adventure they are going on.
In "A Pirate Adventure", when Hatty worries that they might get lost, Tweet assures him that they won't get lost.
Ruff-Ruff
Edit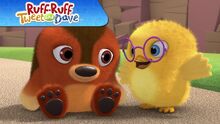 Tweet and Ruff-Ruff are great friends. They do many things with each other.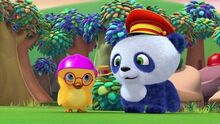 Tweet and Dave are really good friends. They also do many things together.
Whenever Dave would give off a silly answer to a Game Time question, Tweet would often giggle at it.
In "A Farmyard Adventure", Tweet laughs at Dave's little joke at the beginning. Also, When Dave gives out his answer to the first Game Time, which is "Chocolate Mousse", Tweet giggles at his answer. She also giggles at Dave's answer to the second Game Time, which is that the eggs are under Hatty's hat. Also, when Tweet announces to collect hen eggs, Dave looks at her with a smile.
In "A Spot the Difference Adventure", Tweet tells Dave that "she has a smiling mouth for eating bananas too." Which implies that Tweet loves bananas as well. Also, near the end, Tweet is sad that she thinks there's nothing different about Dave.